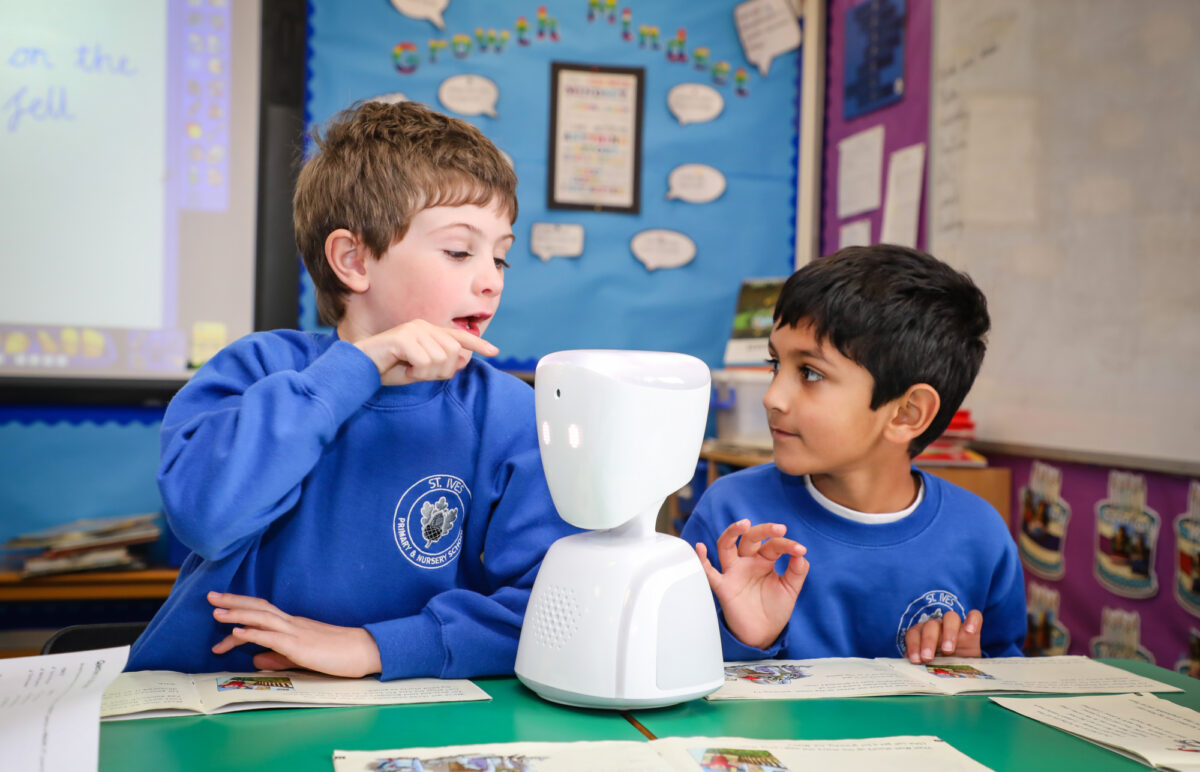 Free AV1 for local authorities
Trial multiple AV1s within your council for eight weeks, with one of the devices free
Background
AV1 has provided over 30 councils and 650 pupils in the UK with secure remote education. It allows pupils to access an unlimited number of their classes, join conversations with their friends and interact with teachers when they cannot be physically present, without the pressure of being seen.

Reasons for absence and AV1 use include (but are not limited to):


Long term illness or chronic condition

SEND (including SEMH)

Anxiety and Emotionally Based School Avoidance

Autism and Aspergers

Covid related absence
In school settings over the years, studies (including a project funded by the Department for Education) and feedback have shown AV1 increases attendance and attainment, improves wellbeing, improves relationships with teachers and classmates, and enables smoother reintegration.

AV1 featured on BBC, September 2021
Working with councils
From working with councils, we know of the ongoing demands and pressures placed on your shoulders, especially since the pandemic. To keep children, parents and schools provided for in these times is a monumental challenge. Statistics show this task is only getting harder with an ever-growing number of children missing school long term – as many as 522,000 in 2021.

Our AV1 service is here to reduce your workload and costs to support students. Your task is to identify which pupil needs the support of AV1 and deliver it to their school; the rest we manage on your behalf.

Offer details
We understand any new product or service needs to show positive outcomes and good value for money. To help you gain insight, here is what we provide all local authorities looking to try AV1 for the first time:


One free AV1 for eight weeks when acquired as part of a paid pilot (e.g. to rent four AV1s for eight weeks, one of those is free).

Guidance with finding schools and users.

Full training and support programme throughout the trial period.

An impact report after eight weeks for you to fairly assess whether it is the right solution for you.
We recommend an initial pilot of 3-5 devices for eight weeks to help multiple students, build evidence and get a full understanding of AV1s scope of use. The cost to rent an individual AV1 is £400 for this period (prices exclude VAT).

T&Cs: Only one free AV1 per new local authority. Free AV1s are allocated on a first come, first served basis.

Testimonials
For a small insight into AV1s potential, we have compiled feedback from some previous and ongoing AV1 local authority pilots.
"The student uses the AV1 and also engages with the teacher through Teams chat. She submits the work that she does in the lessons and has now caught up on 12 months worth of Geography work. Her parents are amazed as to how much she wants to do… I think because of the robot."
– Teacher, summer 2021

"AV1s will continue to have a role to play in our school beyond the current pandemic. We envisage that AV1 could help students with mental health or anxiety concerns. Students would be able to continue to attend lessons from a quiet, safe space, whilst maintaining interaction in their class, with a view to reintegrating back into the classroom when they are able to."
– Teacher, summer 2021
"AV1 it is an alternative I like very much, specifically because it makes it possible for the children to access their peers. It is my opinion that if children remain connected to their school community, the reintegration back to school will be much easier. The anxiety of meeting others can actually be transformed into anticipation to see their friends in person again." Access Lead, Hertfordshire County Council, Dec 2021

"The biggest concern coming from teachers was about some of the bigger characters in lessons and whether they would use the AV1 as an excuse to disrupt the class. To my knowledge this didn't happen. I think there was initial excitement and the other children were intrigued by the AV1 but once the lesson kicked off it was fine and no teacher came back to me and said they had any problems"
– Teacher, summer 2021
"Initially, the class teacher was hesitant as they felt as if they were going to be watched by a parent. The worries soon subsided once it started being used. It was very easy to set up and there was no additional pressure on the class teacher in terms of workload."
– Teacher, summer 2021
"Without these devices all of the students would have missed valuable teaching time and peer input to their assessment preparation. This is the next best solution to face to face teaching."
– Academy SEN Department, summer 2021
"The security of AV1 is a big selling point, and the fact it is so manoeuvrable. I think in terms of supporting student wellbeing, both for the user and the classmates, AV1 is a much more impactful tool than other video-conferencing options."
– Teacher, summer 2021

"If the student didn't have access to the AV1 she would be completely cut off from her friends. The AV1 provides her with purpose for the day, and allows her to get the support she needs from a teacher and from her classmates."
– Teacher, summer 2021
"The technology has a very simple concept but brings remote learning to life. It's a fantastic way to keep young people engaged and connected and to support their education. AV1 is very simple for the teacher and class to engage with and there are no security concerns as no data can be stored. From an authority perspective, it really supports the council's statutory duty of providing all children with an education whatever the circumstances. It's such an exciting project that is truly helping to enhance lives through the use of technology."
– ICT Business Solutions Partner, Wigan Council, Jun 2021

"The real positive from using the robot is that it enabled the child to be part of the classroom and feel less isolated. The student attended and contributed to an RE lesson, using the AV1, for the first time this academic year."
– Teacher, 2021