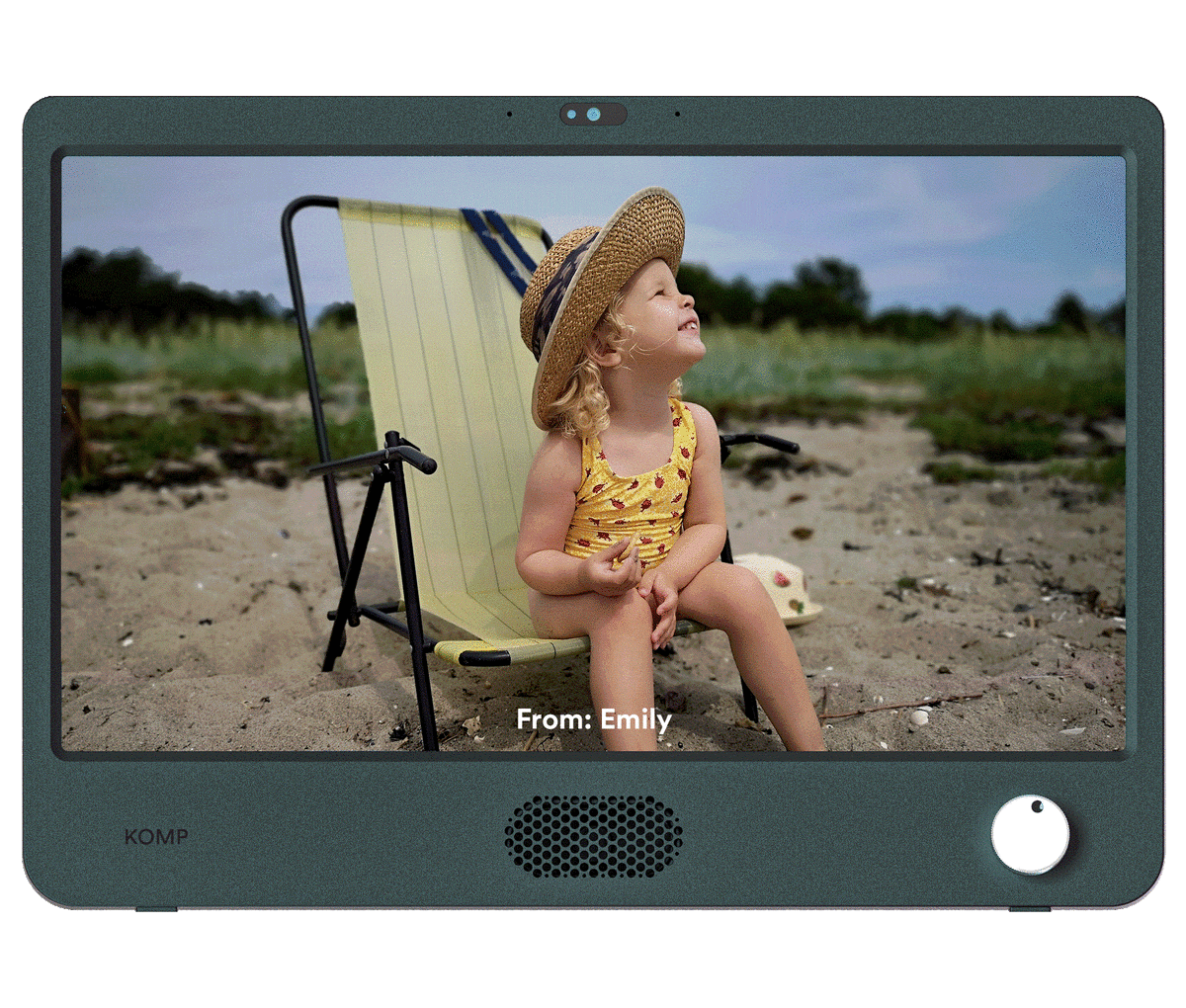 Komp
- A Christmas gift for the whole family!
User friendly and secure technology for photo sharing, text messaging, and video calls.

Human contact, love and close relationships are important for everyone, no matter their age or physical abilities. However, with smartphones and social media, social interaction and communication has largely moved from analogue to digital platforms. This often leaves technologically inexperienced and the elderly behind.

Komp is the one-button computer that bridges the communication gap between those that struggle to use modern day technology, and their more tech-savvy family and friends.

What is Komp?
Komp is a one-button computer, simpler to use than any tablet or smartphone, linked to an app for family members to use. From their own device, children, grandchildren and old friends can share photos, messages and make video calls directly to the person viewing Komp's screen. With 4G internet available with Komp, all you have to do is plug it in and turn it on, making it as easy to set up as it is to use. Komp is developed with privacy and security in mind, so it is a safe, secure and closed social network for the whole family.
Refurbished Komps
We have a limited amount of refurbished Komps for sale at £399. They are thoroughly cleaned, and any broken parts are replaced.

A monthly subscription of £19 is required, and covers unlimited 4G, customer support, server costs and more. The first three months are free.

* The offer is only available in the UK.

Key features:
Only one button (on/off/volume)
Video calls are answered automatically
Images rotate on the screen
Family members manages Komp through an app
Integrated 4G
The Komp service has made such a difference to my mother over the past 3 years, enabling her to keep in contact with all her family. Prior to discovering Komp, we'd tried to get her to use WhatsApp etc on laptops and tablets, but she always struggled with it. Komp is such a brilliantly simple idea for older people unused to, or unable to use, standard technology.

– Family member from Trustpilot
Komp makes it easy to stay in touch
Winnie uses her Komp to keep in touch with her family abroad and at home in Scotland.
"I've felt it's been a big help and it changed my life"
Initiate two-way video calls with Komp
Send pictures to Komp
Send reminders to Komp
Invite the entire family to share content
How does it work?
1. Order today and start your 90-day trial!
When you receive your Komp, simply plug it in and turn on the button. Download the Komp app on your mobile phone and enter the keyword displayed on the Komp screen. Create a Komp Family subscription in Google Play or the App Store. The first 3 months are free.

That's it! Now you can invite family members who can send messages, pictures, and have video calls with Komp.


2. Connect the family!

Now, the family can start sharing daily life with the seniors by sending messages, pictures, and having video calls. Video call your grandparents, whether you're in your new apartment or on top of a mountain! Share everyday moments, big and small, or even upload pictures from the old days.

Get to know Komp and the new chapter in life!
3. After 3 months
After 3 months, the subscription will be activated, and £19 will be charged monthly from the App Store or Google Play. There is only one subscription per Komp, which includes unlimited 4G and all premium features.

If you wish to return Komp within 90 days, you can do so free of charge and get your money back by contacting us at support@noisolation.com.
Do you have more questions?
Yes, many of our Komp users live in nursing homes.
Komp is specially designed to be user-friendly for everyone, regardless of cognitive abilities or technical knowledge. It can be safely used by all. Many family members find Komp to be a valuable tool for staying in touch and providing support to those with dementia. You can read more about it here.
In the Komp app, you can choose whether to share pictures with the entire family or only with the person who has Komp.
Komp has built-in 4G and does not require Wi-Fi.
Komp offers excellent audio quality, and you can adjust the volume by turning the knob. You can also connect hearing aids via the USB port. Seeing the faces of the people you're talking to often helps individuals with a hearing impairment.
Komp features a large 21-inch screen with good resolution and a strong contrast between text and background.
No, Komp is designed to be as user-friendly as possible and requires minimal technical expertise or prior knowledge.
As long as you have access to Wi-Fi, you can use Komp anywhere in the world. However, 4G only works within the EU. The buyer is responsible for shipping costs outside the EU.
Have additional questions? Don't hesitate to reach out!